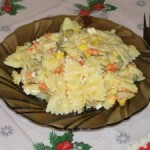 Vždy na Vianoce a na Veľkú noc robievam doma zemiakový šalát. Recept naň som získal pred dlhými rokmi a šalát chutil každému, kto ho ochutnal. Spája tradičnú chuť aj racionálne stravovanie, nezaťažuje telo. Tento rok sme ho obohatili o domácu majonézu. Tak poďme variť.
Klasický slovenský zemiakový šalát s majonézou asi poznáte. Po ňom sa nám chce všetkým spať, lebo naše telo má čo robiť s jeho trávením a na iné mu energia nezostáva. My si môžeme tento šalát odľahčiť tak, že polovicu zemiakov nahradíme cestovinami. Mne sa páčia mašličky, ale na tvare nezáleží, ak sa vám páči. Takže v mise pomiešam zemiaky, pretlačené cez plechový krúžok s natiahnutou oceľovou strunou, na výrobu "hranoliek". Rovnako cez to pretlačím asi osem na tvrdo varených vajec a premiešam. Do toho na drobno nakrájanú cibuľu a zo tri či štyri nakladané uhorky. Na záver pridávam buď sterilizovanú alebo mrazenú zeleninu, teda hrášok, karotku a kukuricu. Celkom asi tak pol kila. Šalát tým získa skvelú farebnosť aj chuť.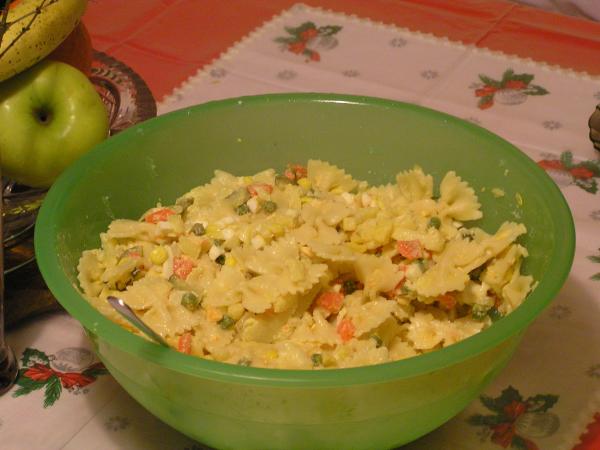 Na záver pridávam majonézu. Kedysi to bola Majolenka Hellmans, ale odkedy som si prečítal zloženie a miesto 30% vajec sú tam len 3% a zvyšok tvorí voda s chemikáliami, aby to držalo pokope, tak radšej nie. Môžete si vybrať. Dajte tam biely jogurt alebo si majonézu vyrobte sami, nie je to ťažké. Záverečný nálev tvoria dve lyžice nálevu z nakladaných uhoriek a trocha vody, lyžica cukru a štipka soli. Po prevarení ním zalejem šalát, ešte raz premiešam a ochutnám.
Môžete ho podávať na Silvestra. Ešte to stihnete. A napíšte mi v komentári, ako sa vám vydaril.