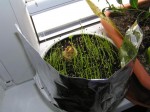 Ak pestujete kvety na mieste, kde je menej svetla alebo si sami pestujete priesady zeleniny skoro na jar, potrebujete rastlinkám dopriať viacej svetla. Jednak aby rýchlejšie zosilneli a tiež preto, aby sa nevyťahovali za slabým svetlom a nemali veľmi tenké a slabé stonky. Ako to dosiahnuť?
Najmä skoro na jar je svetla pre pestovanie rastlín málo a ak máte okná orientované na sever, je to o to horšie. Izbové kvety aj malé priesady potrebujú veľa svetla. Dá sa im to dopriať celkom jednoducho.
Potrebujete za misky s rastlinami položiť odraznú vrstvu, ktorá zozadu vráti časť svetelných lúčov späť do kvetináčov. Najjednoduchšie je použiť grilovaciu tácku z hliníka lebo alobal používaný v kuchyni a upevniť ho ku kvetináču tak, ako je na fotke. Ideálne je alobalovú fóliu prehnúť na dvoje.
Rastlinky sa vám za starostlivosť a viac svetla odmenia rýchlejším a bujnejším rastom, aby ste sa čo najskôr mohli tešiť z úrody alebo bohatých kvetov.