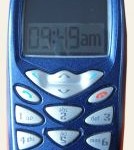 Tak takéto SMS-ky nám chodia každý mesiac na náš mobil. Naposledy obsahovala sumu 10,86 EUR. Za vyše 12 pretelefonovaných hodín. Je to veľa alebo málo?
Keď som si v Orange objednával BIS, počúval som pri okolitých stolíkoch, ako si ľudia na radu predajcov objednávali neobmedzené volania len za 29,90. Ja nemám pocit, že by sa u nás doma niekto v telefonovaní obmedzoval, lebo by sa bál vysokých účtov.
Samozrejme, každý telefonuje inak. Na rôzny počet čísel, rôzne dlhé hovory. Do rôznych sietí. Aj keď v mnohých volacích programoch už je úplne jedno, do akej siete voláte. V každom prípade sme pred rokmi v rodine všetci prešli z Orange do Telefonica 02 a všetkým nám klesli faktúry za telefonovanie minimálne o polovicu. Samozrejme, že niektorí využívame "mojim trom" a niektorí aj volanie po tretej minúte zdarma. Všetko sú to férové možnosti, ktoré nám ponúka férový operátor. Žiadne pokútne praktiky.
Pre niekoho môže byť výhodných konkurenčných 29,90 za neobmedzené volania. Ako vravím, záleží od toho ako často a koľkým ľuďom telefonujete. No ako ukazuje môj príklad, môže to ísť aj lacnejšie. Preto ak zvažujete nový paušál, skúste si zistiť, koľko naozaj prevoláte a či neobmedzené volania nie sú pre vás trošku drahé. Koľko vás naozaj stojí prevolaná minúta. To je dôležité. Nie koľko volať môžete a aj tak to nevyužijete. Iba zaplatíte.