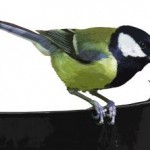 Zima je ťažké obdobie nie len pre vtáčiky, ale pre celú faunu. Potrava je buď pod snehom skrytá alebo celkom zmrznutá a nie každý živočích sa dožije jari. Čo náš môže tešiť v prípade kliešťov a inej hávede, ale konkrétne pri vtáčikoch je nám to skôr ľúto.
V letnom období malé vtáčiky sa živia hmyzom a nezriedka ho za deň skonzumujú množstvo, blížiace sa hmotnosti vtáčika. Pokiaľ máte záhradu, sú veľmi užitočné. Jednak môžete pokojne sedieť na verande a neotravuje vás nič bzučiace, jednak si dopestujete kvalitné ovocie, keď škodcov kynožia vtáčiky.
Keď v zime vtáčence kŕmime, zvyknú si na našu záhradu a neopustia ju ani v lete. Takže nasypte do krmítka alebo na tanierik na verande nejaké orechy, kľudne aj staršie, či mak alebo slnečnicové semená. Prípadne môžete v záhradkárskych potrebách kúpiť lojové gule, ktoré obsahujú tuk aj semená. Sú balené do plastikovej sieťky, za ktorú ich môžeme zavesiť na špagát do koruny stromov.
Ja pravidelne dopĺňam orechy a vymieňam prázdne sieťky za novú potravu. Kŕmiť vtáčiky sa oplatí, lebo vám to v lete vrátia. A navyše je na ne pekný pohľad. A ak máte po ruke fotoaparát, nie je núdza o krásne fotky.