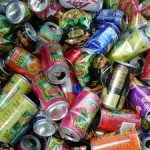 Meď je na vine, že ľudia kradnú a preto ľuďom zakážem predávať šrot do zberní. Tak nejak funguje logika na Ministerstve životného prostredia a preto plánujú zákon o odpadoch novelizovať tak, že fyzické osoby (ľudia, občania) nebudú môcť predávať farebné kovy a železný šrot do zberných surovín.
Na Slovensku máme plno zákonov a vyhlášok, ktoré všeličo zakazujú alebo prikazujú, ale naše bezpečnostné zložky a súdy nevedia nikoho prichytiť, usvedčiť a odsúdiť tak, aby si to zločinec nabudúce rozmyslel a ostatných ľudí zo strachu ani len nenapadlo kradnúť alebo inak porušovať (dobré) zákony. Namiesto toho svoju nemohúcnosť nahradia ešte absurdnejším zákonom, obsahujúcim zákaz doteraz úplne samozrejmej veci. A pre pár zlodejov, s ktorými si nevedia (alebo nechcú?) poradiť, otrávia život zvyšným 97% slušných ľudí. To je na mašlu. Len pre koho?
Pred pár rokmi mi zomrel otec. V starom rodinnom dome, kde sa chystal na rozsiahlu rekonštrukciu, po ňom zostalo kopa rúr, traverzy, oceľová údiareň, nejaké sudy a staré náradie, pre ktoré som ja nemal využitie. Spolu so starým kolesom z vagónika, ktoré slúžilo ako nákova a s inými, pre nás už zbytočnými vecami, to boli úplne nepotrebné veci. Niekoľko ton železa skončilo v zberni. No podľa ministra životného prostredia som potenciálny kriminálnik a preto mi treba zakázať odpredaj tohto materiálu do zberu. Eseročku s kvôli tomu nezaložím. A ako povedal jeden človek v televíznej reportáži, skončí to všetko v potoku.
Bravo. Ministerstvo životného prostredia vyrieši namiesto polície krádeže farebných kovov na železniciach a namiesto toho bude odstraňovať bordel z lesov a potokov. Pre takéto konanie sa vžilo porekadlo "vyliať vaničku aj s dieťaťom". Koľko tupcov máme vo vedení štátu sa dozvieme vždy, keď si niektorý z nich otvorí papuľu v telke.