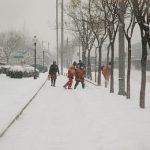 Vonku už druhý deň padá sneh. A ako podotkol kamoš pri obede, cestári sa stále nezobudili. Teda tí mestskí odhrnuli sneh z chodníkov, ale štátni sa na cestu neunúvali. Vlastne ani mestskí na ulice. Autá nech si sneh rozjazdia samé, čo na tom, že ich majitelia cestnú daň aj tú spotrebnú pri tankovaní už zaplatili. Občan má platiť dane a nepapuľovať. Ešte že môjho podnikania sa táto snehová kalamita netýka.

Včera aj dnes som zašiel do mesta, ako každý deň. Ale už včera som auto nechal zaparkované pred bytovkou a šiel som pešo. Nie je to ďaleko, pešia prechádzka mi pri mojej sedavej práci len prospeje. Pravda, ak sa na zľadovateľom chodníku nepošmyknem a nespadnem. Čo by nasledovalo viem celkom presne, práve včera som dopísal pre jedného klienta PR článok na tému úrazového poistenia. Tak ako radím v článku, mám kvalitné topánky, pri chôdzi si dávam pozor. A viem, to už som v článku nepísal, o zodpovednosti mesta za udržiavanie chodníkov aj o následkoch, keď si povinnosti mesto neplní a niekto si ublíži.
Mať ale biznis po meste, musieť jazdiť autom každý deň a hľadať v tom snehu parkovanie, bez problémov sa na miesto dostať a potom z neho zase bez šmýkania kolies vyjsť, asi by ma šľak trafil. Dvadsať centimetrov snehu v priebehu dvoch dní, síce dlho ale zato pomaly padajúceho, dokáže paralyzovať mesto, obchody, úrady.
V takých chvíľach som rád, že podnikám cez internet. Keď chcem, idem do mesta, keď nechcem, zostávam v obývačke. Moji klienti sú na celom území štátu a internetové káble v zemi nevyžadujú, aby ich niekto očistil od napadaného snehu. Môžem komunikovať, písať a čítať emaily, odovzdávať svoju prácu.
Je to môj kus nezávislosti od tohto nefungujúceho skostnatelého a prehnitého systému.