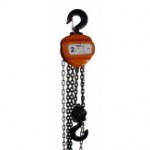 Na jeseň som zistil, že v garáži mám problém s jednou stenou. Vplyvom vytrvalých dažďov došlo k podmočeniu jednej steny a bolo treba ju dôkladne opraviť. S tým by nebol žiadny problém. Stačilo len nájsť dobrých majstrov, dohodnúť vhodný termín a hlavne – vypratať garáž.
Ako v každej staršej garáži, aj v tej mojej sa našlo všeličo. Starý motor z motorky Jawa, odložené kolesá z dávno predaného auta, ale aj čerpadlo zo studne a nejaký ten elektromotor. No a vlečka za osobné auto, ktorú som tiež zdedil. Všetko to dokonale využilo priestor garáže, takže aby sa tam murári dostali a mali si kde uložiť materiál, musel som tam urobiť poriadok a rozhodnúť, čo cenu má a treba odložiť a čo cenu nemá a má skončiť v zbere druhotných surovín.
Prečo o tom tak obšírne píšem? Seklo ma v krížoch a to sa potom ťažko dvíha dvanásťkilový elektromotor. Našťastie na riešenie takýchto problémov exituje nástroj menom kladkostroj. Jeden som si zaobstaral, malý reťazový, zavesil ho na konzolu na strope a pohodlne každé bremeno vytiahol do výšky a položil na vlečku, ktorú som pod náklad zasunul. A odviezol, kam bolo treba.
Kladkostroj využíva veľmi dávno objavený fyzikálny princíp. Ťahaním za reťaz malou silou po dlhšej dráhe dvíhame ťažké bremeno po krátkej dráhe. Takže ruky si síce pocvičíme, lebo nejaký ten meter reťaze nám nimi musí prejsť, ale netreba veľkú silu a pritom zodvihneme aj ťažké bremeno, podľa nosnosti kladkostroja až 2 tony. Pozor ale na nosnosť stropu alebo konštrukcie, kde je kladkostroj zavesený! A hoci sme v škole niektorí nemuseli dávať pozor, fyzika nám takto pomáha. A mne pomohla upratať garáž aj s boľavým chrbátom.