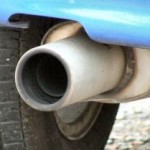 Na hodinách chémie na strednej škole nás profesorka trápila rôznymi definíciami. Podľa jednej takej je katalyzátor chemická látka, pridávaná v malom množstve do chemickej reakcie, ktorá urýchľuje chemickú reakciu a znižuje aktivačnú energiu, ale sama pritom ostane nezmenená (teda sa neviaže v produkte reakcie). Katalyzátor má vplyv len na kinetiku reakcie. Katalyzátor nemôže vyvolať chemickú reakciu, môže ju len urýchliť. Nie je to ani reaktant, ani produkt. Márne sme vtedy rozmýšľali, načo nám to bude dobré vedieť. Nikto si vtedy nepripúšťal, že katalyzátorov bude okolo nás všade plno, hoci si to možno ani nebudeme uvedomovať.
Stačí sa pozrieť na uliciach okolo seba. Takmer všetky autá s naftovým motorom majú filter pevných častíc a benzínové zase katalyzátor. Oba majú za cieľ znížiť emisie škodlivých látok a skleníkových plynov. Chvályhodný ekologický krok, ktoré všetky automobilky urobili pod tlakom európskej legislatívy. Bez tlaku zákonov by na to nikdy nepristúpili, pretože zvyšujú cenu automobilov a niekedy aj spotrebu pohonných látok.
A ako všetky súčiastky v autách sa kazia. A treba ich občas vymeniť. Okrem plánovanej životnosti môže byť katalyzátor poškodený pri rozťahovaní benzínového auta lanom. Ak budete v situácii, že vaše auto potrebuje výmenu katalyzátora, využite možnosť, ktorú vám ponúka každý slušný autoservis, a to vrátenie vymenených dielov. Katalyzátor je totiž cennou surovinou. Obsahuje vzácne kovy, ktoré sa chemicky nespotrebovali pri úprave výfukových plynov.
Ako súkromná osoba môžete využiť službu výkup katalyzátorov a získať späť peniaze za pre vás už nepotrebný katalyzátor. Ak ste menšia firma alebo servis automobilov, firma príde v rámci Slovenska k vám a vykúpi vaše staré katalyzátory. Cena katalyzátora záleží od jeho veľkosti a množstva vzácnych kovov, ktoré obsahuje, teda od typu vozidla. O cene sa môžete informovať na webe, zanechajte svoje telefónne číslo a firma vám zavolá.
Aj vám môže výkup katalyzátorov pomôcť znížiť náklady na servis vášho automobilu.